CCTV CAMERA SURVEYS
CCTV surveys are a cost-effective method for identifying issues such as damaged pipes, blockages, and structural defects.
Expert Drain CCTV Camera Surveys
When the cause of a drainage problem isn't immediately obvious, a CCTV Camera Survey can be used to check the system.
CCTV surveys are a cost-effective method for identifying issues such as damaged pipes, blockages, and structural defects.
Our policy is to invest in the most up to date CCTV technology to ensure we offer our customers the most detailed, accurate and cost-effective CCTV service.
Kall Services (Midlands) Ltd are able to offer a push-along camera through the length of the defective pipework. This is recorded so you are able to review our findings.
All CCTV drain surveys are conducted in accordance with Water Authority Standards.
Our CCTV camera surveys can identify
Collapsed drains
Broken or damaged joints and pipework
Water ingress and holding
Hidden inspection chambers
Fat & grease build up
Location of drains for extension plans
Rodent or root intrusion
Drainage condition for pre-house purchases
For pipes with smaller diameters, where bends in the pipe prevent crawler cameras from being used, or vertical pipes, such as soil stacks, our engineers can use push CCTV cameras, also known as push rod cameras.
The mini cameras and supporting LED lights are located on the end of a flexible rod which is stored on a small portable reel. A CCTV survey operative can guide the flexible rod into and along the drain or sewer while viewing the video progress on a screen installed above the reel.
This allows our engineers to conduct a thorough investigation in order to identify the issue.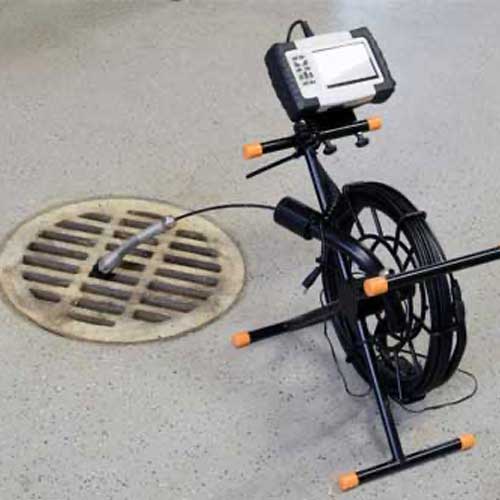 What are CCTV drain surveys used for?
CCTV drain surveys can be used for:
Pre-purchase surveys
Pre-build survey
Drainage mapping
Finding animal infestations
How much does a CCTV drain survey cost?
Until we know what the drain situation is we can't give a definitive price. However, we will give you a full and no-obligation quote for you to agree on before we start any work.
What are the benefits of a CCTV drain survey?
A CCTV drainage survey provides a range of benefits for both spotting drain issues and allowing general surveys of the state of the drainage systems effectiveness.
GET YOUR FREE DRAIN REPAIR QUOTE
For a free no-obligation quote or advice on your drainage problem, call us today on 0800 0778 369
Great professional service was provided, they were out to us very promptly & got straight to work.
I cannot recommend Kall services highly enough.
Homeowner UK
Top class service from start to finish - good communication. The crew started on the agreed date. Experienced workmen that knew exactly what they were doing.
Thoroughly recommend.
Homeowner UK
The entire process was excellent. Every stage from contact to finish of the job was carried out professionally. I would definitely recommend Kall Services.
Homeowner UK
Great service, will use again if needed.
Homeowner UK
Very quick & efficient & very fair price. Would recommend.
Nicola
Great work done. They replaced the bottom of my soil and vent pipe and routed it into the sewer. Very speedy and efficient, and cleaned up after themselves really well afterwards. Would highly recommend!
John Duncan