BURST RISING WATER MAINS & LEAKS

Expert Drain CCTV Camera Surveys
When the cause of a drainage problem isn't immediately obvious, a CCTV Camera Survey can be used to check the system.
CCTV surveys are a cost-effective method for identifying issues such as damaged pipes, blockages, and structural defects.
Our policy is to invest in the most up to date CCTV technology to ensure we offer our customers the most detailed, accurate and cost-effective CCTV service.
Kall Services (Midlands) Ltd are able to offer either a motorised crawler system or a push-along camera through the length of the defective pipe work. This is recorded so you are able to review our findings.
All CCTV drain surveys are conducted in accordance with Water Authority Standards.
Our CCTV camera surveys can identify
Broken / damaged joints and pipework
Water ingress and holding
Hidden inspection chambers
Location of drains for extension plans
Drainage condition for pre-house purchases
Crawler cams are used to survey larger pipelines, including industrial, commercial, and even some domestic systems, and are controlled via remote control. Using crawler cams, our engineers are able to conduct a thorough investigation of the pipes in order to identify the issue.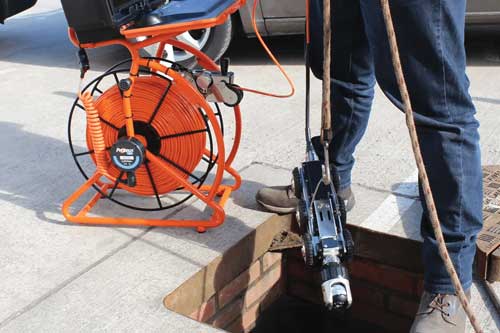 For pipes with smaller diameters, where bends in the pipe prevent crawler cameras from being used, or vertical pipes, such as soil stacks, our engineers can use push CCTV cameras, also known as push rod cameras.
The mini cameras and supporting LED lights are located on the end of a flexible rod which is stored on a small portable reel. A CCTV survey operative can guide the flexible rod into and along the drain or sewer, while viewing the video progress on a screen installed above the reel. This allows our engineers to conduct a thorough investigation in order to identify the issue.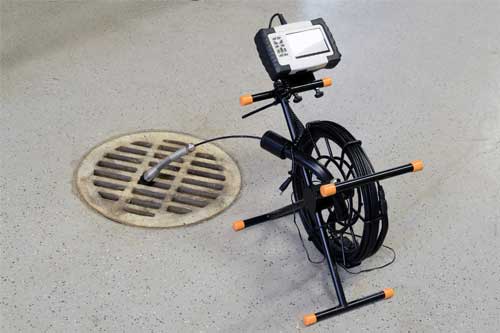 Whatever your requirements are for Drain CCTV Camera Surveys throughout the Midlands area, Kall Services (Midlands) Ltd will be able to help. For more information about this service, please contact us on 0800 0778 369 or email info@kallservices.co.uk