BURST RISING WATER MAINS & LEAKS

The Sewer Cleansing Experts
As Sewer Cleansing experts, Kall Services (Midlands) Ltd are able to cleanse, descale and degrease pipes, drains, and sewers. Regular preventative maintenance on your sewers and drainage systems can prolong the working life of the system avoiding inconvenience and costly repairs.
Our engineers can conduct regular inspections and safety checks of your sewers and recommend the best way to maintain their effective operation. Once we are able to determine the condition of the drainage system we will then look to clean or remove any blockages by utilising our comprehensive range of sewer cleaning equipment.
High Pressure Water Jetting
The majority of pipework accumulates silt, grease, scale, debris, or other deposits over time. High pressure water jetting is one of the most effective methods for clearing away these common problems, leaving the pipe clean and free flowing.
The high-pressure water quickly cleans the internal surfaces, flushing through any debris which may build up and cause blocking issues. If water jetting is conducted regularly it will greatly improve the life span of drains, pipelines, and sewer systems.
Ideally, high pressure water jetting units can also clear blocked drains where access is restricted, and excavations are not possible.
High pressure water jetting is suitable for pipe work sizes ranging from between 100mm up to 2000mm in diameter. Our rear mounted hydraulic systems for sewer cleaning have a jetting reel with over 200 metres of hose. These units have a variety of jetting nozzles for different types of cleansing including: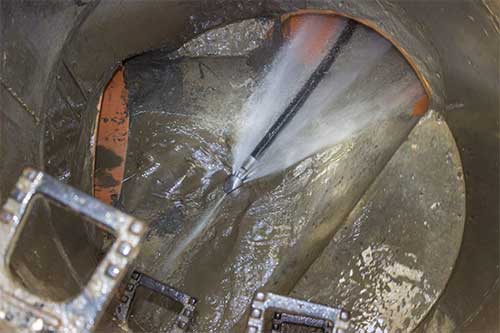 Where high pressure water jetting is not sufficient to solve the drainage issue Kall Services (Midlands) Ltd can offer an alternative cost-effective solution called Rotary Root Cutting.
It is mainly utilised where heavy root infestation has occurred or where there is a build-up of cement wash, lime scale or fat within the pipe.
The rotary root cutter combines a cutter with a high-pressure jet and vac unit. The cutter clears the blockage, and the water jet removes all the debris from the pipe. The results are effective and immediate with no damage caused to the existing pipe work.
This type of tool can still operate even if the drainage system is in a poor state of repair such as broken joints or misshaped pipes.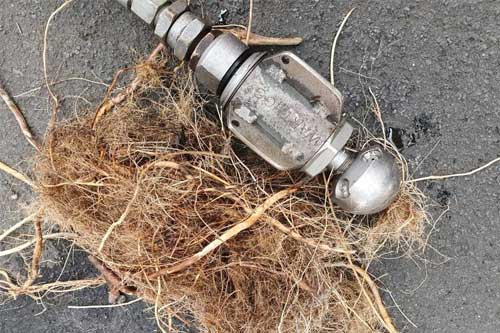 Whatever your requirements are for Sewer Cleansing throughout the Midlands area, Kall Services (Midlands) Ltd will be able to help.
For more information about this service, please contact us on 0800 0778 369 or email info@kallservices.co.uk.